If you love to dine out, you'll be interested in knowing the top 10 most hyped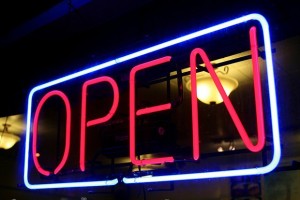 restaurants that will be opening in 2014. Eating out has become a big thing and there are foodies all over the country who are looking forward to new dining establishments. With a new year, new restaurants are on the horizon.
The new openings are happening in major cities throughout the U.S. Las Vegas, New York, Los Angeles, and Denver are only some of the cities that will be welcoming new restaurants this year. They are highly anticipated because of their chefs as well as their food, and Zagat is featuring all of them.
1. Monsieur Benjamin
San Francisco will be welcoming a new restaurant called Monsieur Benjamin, slated to open this spring. The food will feature modern French items in a bistro-type atmosphere. The owner is Corey Lee, who is currently the chef and owner of Benu. The head chef of the new place will be Jason Berthold. The restaurant will be located in Hayes Valley and will have seating for almost 100 patrons.
2. Stoic & Genuine
There are a number of new restaurants opening in Denver this year and Stoic & Genuine is one of them. It is planning on opening in the newly revamped downtown Union Station. While restaurant competition is high in the city, the Denver Post reports that the national reputation of the chef will help set Stoic & Genuine apart from the rest.
Jennifer Jasinski has made a name for herself by making it to the Top Chef Masters finals and winning the James Beard Award for being the Best Chef Southwest. She will once again be partnering with Beth Gruitch, and this will be their fourth restaurant.
Seafood will be the star at the new restaurant. Fresh seafood, New England-style classics, and a special raw bar will be available in the open kitchen as well as on the patio.
3. Alden & Harlow
Chef Michael Scelfo just recently opened his Alden & Harlow in Boston. The restaurant space is modern, subterranean, and comfortable. The food is unpretentious and is inspired by the type of cooking that he does at home for his friends and family. His dishes are heavy on produce and vegetables that are thoughtfully and locally sourced.
4. Giada's
A food celebrity who is loved by all is Giada de Laurentiis and she will be opening Giada's in Las Vegas sometime in the summer. This is her very first restaurant and it will open in Gansevoort on the strip.
The Las Vegas Sun reports http://www.lasvegassun.com/vegasdeluxe/2013/aug/21/giada-de-laurentiis-open-italian-restaurant-giada-/ that the 12,000 square foot restaurant will feature Italian fare with California influences. There will be al fresco dining and views of the mountains and the Bellagio fountains. Giada plans on giving the place a feminine touch, which will include stylish living room-style furniture.
5. Lo Spiedo
If you live in Philadelphia, keep your eyes open for Lo Spiedo, planning to open in late spring. The chef is Marc Vetri, who is a star in the Philadelphia dining scene. His new restaurant will be located just inside the office park of the Navy Yard in a previous guard house.
The new place will be more of a casual, relaxed eatery. Looking to attract sports fans and nearby office workers, food examples are rotisserie, sandwiches, and pastas.
6. Tony Mantuano Project
Chef Tony Mantuano is opening a new restaurant in Chicago. Although the restaurant is yet to be named, it will serve rustic American fare in a social dining hall atmosphere. Large cuts of beef and whole roasted chicken will be offered along with classic cocktails, wine, and craft beer. It will be located in the Reid & Murdoch building, which offers river views.
7. China Chilcano
Scheduled to open in the spring, China Chilcano will be a new addition in Washington, D.C. Popville reports that Jose Andres will be leading this Chinese-Peruvian establishment in Penn Quarter. Expect dishes such as ceviches, dumplings, and fried rice.
8. Danny Meyer Project
In the King and Grove Hotel in New York City, Chef Danny Meyer is planning a summer opening of a new yet-to-be named restaurant. Although there are few details about the features of the eatery, it is expected to be one of the hottest tables in 2014.
9. POT
Los Angeles has a new restaurant coming to town called POT. Roy Choi is the owner of the place, which will be located in Koreatown in The Line Hotel. Korean BBQ is a big feature, as is blood soup and hot pots.
10. The Progress
The Progress is set to open by late spring in San Francisco. The owners, Nicole Krasinski and Stuart Brioza, are the team behind the popular State Bird Provisions, which is always packed. Their new place will be located only a few doors down from their first restaurant.